Crossword Tournament Dispatch #7: Results
February 21st, 2010 at 6:55 pm ET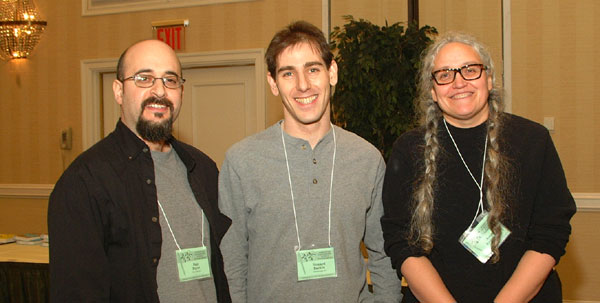 The final results from the 33rd Annual American Crossword Puzzle Tournament are in. Thanks to everyone who participated, and congratulations to the overall winners, the division winners, and the category honorees. Congratulations to Dan Feyer, who took Division A. Particular congratulations are due to the Division A and B finalists who had never been so honored, especially to Anne Erdmann (the first woman in recent years to earn a place in the Division A finals, aside from perennial crowd favorite Ellen Ripstein, the 14-time finalist who was champion in 2001); and to Joon Pahk, a rookie who not only rose from Division C to B in his first competition, but qualified for the division finals and then won Division B outright.
The luminaries of the crossword puzzle world who made it onto the leaderboard yet again — including Howard Barkin, Tyler Hinman, Trip Payne, Kiran Kedlaya, Stella Zawistowski, Francis Heaney, Al Sanders, and Ellen Ripstein — all deserve our respect. As easy as the competition seems for them (unfortunately, I always sit near Trip, who seems to put up his hand at just about the time I break into the puzzle), they work as hard as any of us to perfect their craft, and many of them additionally construct, edit, or otherwise work in the world of puzzles. They're an example for all of us, and certainly for me, inspiring me to work harder, solve faster, and practice more.
I'll have more to say later, along with photos and additional links, but here are some initial thoughts about this year's event.
Thanks to Will Shortz, Helene Hovanec, and this year's officials, constructors, and staff for a terrific event — good mojo, a fair competition, and plenty of fun and frolic around the edges. And thanks to the staff of the Marriott Brooklyn Bridge. This is the third year in Brooklyn (after decades in Stamford), and after a couple of rough years, the hotel has adjusted to us (and we've adjusted to it): service in the restaurant and bar has improved; we're used to the room; spillover social activity has moved out of the hotel lobby into nearby bars and nightspots. I think a lot of the frustration with the hotel (and there still is some) is a matter of simple resistance to change; objectively, the hotel is fine and the staff seem to be doing their part to make it work well for us.
The social events were a hit. Sure, they were schmaltzy, but that's kind of the point — getting the community together to celebrate with one another in our quirky way. All things considered, I think we all enjoyed the talent show and hope it's done again next year, and ditto for the Friday games despite their unevenness.
This year's puzzle #5 was a killer; or, at the level I'm solving at, it's a time game — take your pick. I had six clean solves in what I thought was fairly good time (bombing on puzzle #5, about which you've already heard, and I'll have more to say) — but I still dropped more than 40 places. Comparing myself (at 232 this year) with the contestants in the 180s where I ranked last year, there's a gap of less than 350 points. Either a clean solve of puzzle #5 (and not necessarily a fast one, either), or an average of 2 minutes' advantage in each of the other 6 puzzles, would have ranked me up in the 180s again. And achieving both of those would have earned me the additional 300 points I needed to reach the target rank of 150 that I was shooting for going in. And wIthout a doubt, once you get above roughly 100 in the rankings, it's all about solve time — at that point you can take for granted that virtually everyone has a clean solve of all seven puzzles.
Much of the fun in this whole enterprise revolves around meeting and schmoozing with the constructors. Puzzle constructing is a small, small world; something like 100 people alive have ever done it for a prominent outlet, and most of them were at the tournament. It's surprising what a varied group it is, in terms of ages, personalities, and so forth. After a few years I'm used to most of them, but rarely do you meet a crossword constructor and think, "Why, that's exactly what I would have expected him/her to look like; I'd have recognized him/her anywhere!" I'll refrain from embarrassing myself by pointing out exactly which constructors I pegged totally wrong, based on no particular evidence, before I eventually met them at the tournament.
As a corollary to that: I should try constructing. Part of the fun of the puzzle world is making it all happen. The solver skillset and the constructor skillset aren't exactly the same, but there's a fair amount of overlap. Chatting at the bar on Saturday afternoon with an aspiring constructor (I forget your name, but if you're reading this, say hi — you'll recognize the code word "COLD FRAME") about constructing got me excited about it again — and now that I have Parallels working I needn't be afraid of Windows constructor software anymore.
Plenty more to come, including a list of crossword events, a puzzle-by-puzzle rundown (but no spoilers here!), some hallway gossip, and a lot of photos. Stay tuned.
For the record: my tournament buddy held steady in the 120s, for the 3rd year in a row, coming up 2 places — this despite having almost as much trouble on puzzle #5 as I did. This tends to confirm the "it's a time game" theory of tournament play. Also for the record: you can see scans of my filled-in puzzle sheets here, but don't click if you plan to do the puzzles yourself — you'll see the answers!
Image credit: Don Christensen, source here
ShareThis